Go to the Big Contest sometime Sunday morning Eastern Time. I'll post the winners, assuming I can figure it out.
Ok, this is important if you are interested in getting a strip which I've already archived. If you have a favorite strip from the past, and I don't have it personally, it may be in the Archive at Ohio State U. Let me know the date or a description with the approximate year it appeared, and whether it was a daily or a Sunday. If it's at the OSU Cartoon Archives, I'll get it. Not all of them are there. Over the years many have gone to various people, and I gave a bunch of strips to an archive at the University of Lund in Malmö, Sweden. I can get the ones from OSU, but I can't do that every time I get a request. I'll wait till I get a bunch of requests and I'll do it twice a year. First time will be in June when I get back from my trip. So if you asked for something in the past, and I told you that I didn't have it, please ask me again.
Here's Coonie playing in the sprinkler in Autumn of 1956. She loved to do that.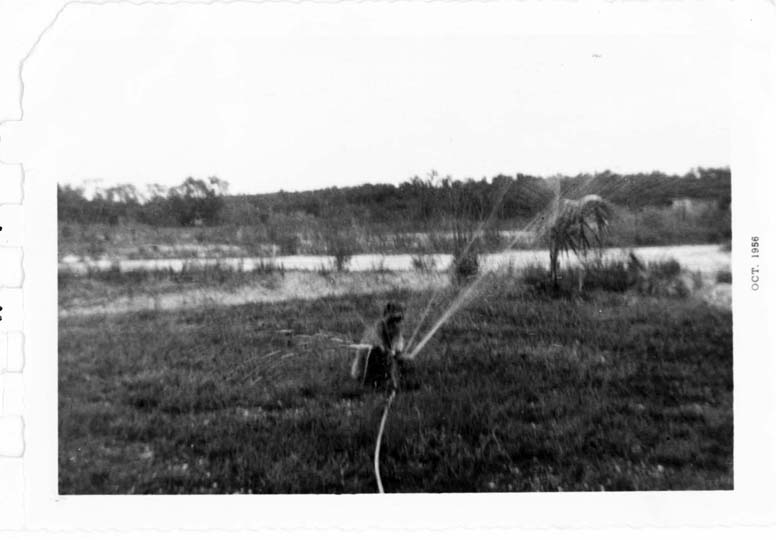 In the background you can see what what a great portion of Anna Maria Island looked like back then. We were the first house on the edge of the undeveloped jungle. In the distance there beyond the cleared lots you can see where I played. Beyond that row of mangroves is Sarasota Bay. I spent a lot of time out there on the water as well.
Now here's a Sunday from 1991: