I'm not sure what this means, but it brings to mind my days in high school English class. My teacher was Mr.s Jeanne Parrish, well loved by her students both then and in later life. First I have to tell you a little story. I spent lots of year in school and in college. And you may or may not believe it, but I never ever cheated on a test or by copying someone else's homework or the like. Actually that's not quite true. Everyone has a skeleton in his closet. It was in Mr's Anderton's eighth grade English class, and we were having an exam. Sandy Aldrich, the prettiest girl in school sat behind me. I felt a tap on my shoulder and heard Sandy whisper "What's the answer to number 6?" I whispered back "b". OK, but that's the sum total of my lack of academic probity.
In twelfth grade Mrs. Parrish gave me an 94 (A) on a test when I deserved an 88. She had misgraded one answer. After class I brought it to her attention. She said "I'll never forget you for this." And she didn't. She was a wonderful teacher. I distinctly remember her explaining the difference between a simile and a metaphor during one class.
Through the years I remained in contact with her. When she was 95 years old, I took her out to lunch and then on a little car tour through Anna Maria Island. She was so pleased. As we were driving I asked her "Mrs. Parrish, what's the difference between a simile and a metaphor?" She smiled and explained the difference with the same exact words that she had used some 55 years earlier. She passed away the next spring. I loved her dearly. Here we are at my 50th high school reunion.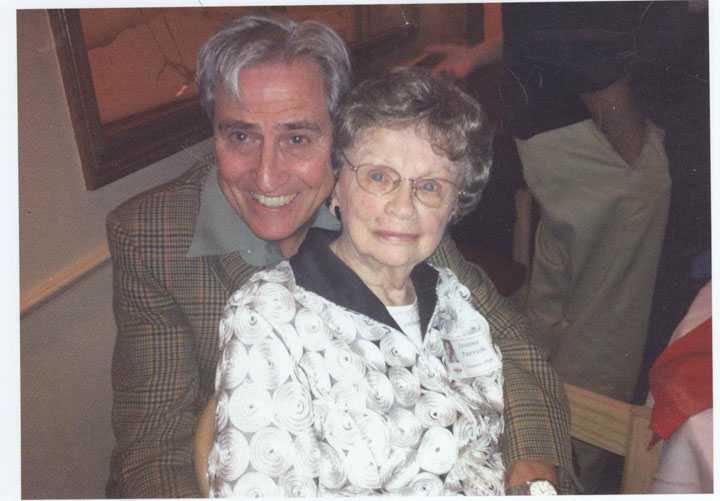 Enough of that. But if you're interested in figures of speech, I came across this web site the other day. I learned that Yoda spoke in hyperbatons. Enlightened I am.